(727) 623-4605 /TEXT (727) 916-5722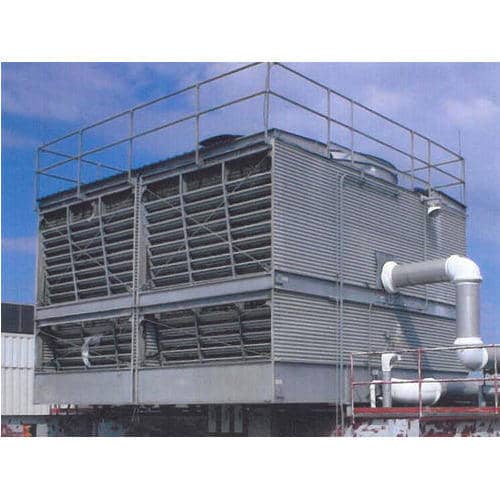 How Do Cooling Towers Work Explanation
---
What are cooling towers? Cooling towers are a special type of heat exchanger that allows water and air to come in contact with each other to lower the temperature of the hot water. During this process, small volumes of water evaporate, lowering the temperature of the water that's being circulated throughout the cooling tower. In a short summary, a cooling tower cools down water that gets over heated by industrial equipment and processes.
The hot water is usually caused by air conditioning condensers or other industrial processes. That water is pumped through pipes directly into the cooling tower. Cooling tower nozzles are used to spray the water onto to the "fill media", which slows the water flow down and exposes the maximum amount of water surface area possible for the best air-water contact. The water is exposed to air as it flows throughout the cooling tower. The air is being pulled by an motor-driven electric "cooling tower fan".
When the air and water come together, a small volume of water evaporates, creating an action of cooling. The colder water gets pumped back to the process/equipment that absorbs heat or the condenser. It repeats the loop over and over again to constantly cool down the heated equipment or condensers.
There are many different types of cooling towers but the cooling tower working principles stay pretty much the same. Most cooling towers work based on the principle of "evaporative cooling".
What is Evaporative Cooling? Evaporative cooling is the process where warm water from an industrial process is pumped up to the top of the cooling tower where the water distribution system is. The water then gets distributed by cooling tower nozzles to the wet deck. At the same time, air is being drawn through the air-inlet louvers forcing water to evaporate. Evaporation causes the heat to be removed from the make up water. The hot air naturally rises out of the tower.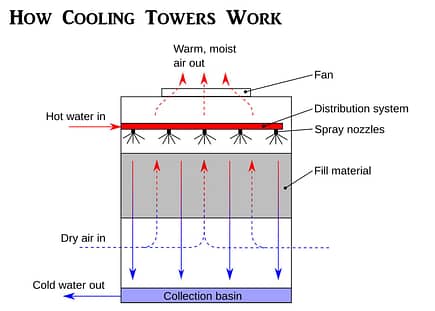 What are cooling towers used for?
---
An HVAC cooling tower is used for disposing or rejecting heat from chillers. Air cooled chillers are less efficient than water cooled chillers due to rejection of heat from tower water near wet-bulb temperatures.
Cooling Tower Applications
---
Traditional HVAC heating and cooling systems are used in schools, large office buildings, and hospital. On the other hand, Cooling towers are much larger than traditional HVAC systems and are used to remove heat from cooling tower water systems in petroleum refineries, plants, natural gas processing plants, petrochemical plants, and other industrial processes and facilities.
Types Of Cooling Tower Systems
---
Cooling towers are usually designed for specific purposes. Not all cooling towers work for all applications or industrial processes. Here we help you understand the various types of cooling towers, there advantages/disadvantages and determine which cooling tower type is right for your industrial process. Check out the cooling tower list and parts list that provides an overview of cooling tower types to help you figure out which tower is right for your industrial application and what replacement parts you might need.
Crossflow Cooling Towers Flow 
---
In crossflow cooling tower systems the water vertically flows through the fill media while the air horizontally flows across the falling water. That's why they call it "crossflow" because the air and water cross paths or flows. Because of the crossing of flows, the air doesn't need to pass through the distribution system. This permits the use of hot water flow via gravity and distribution basins on the top of the tower right above the fill media. The basins are a standard of crossflow cooling towers and are applied on all units.
Counterflow Cooling Tower 
---
Difference between crossflow and counterflow cooling towers: In counterflow cooling tower system processes, the air vertically flows upwards, counter to the water flow in the fill media. Due to the air flowing vertically, it's not possible to use the basin's gravity-flow like in crossflow towers. As a substitute, these towers use pressurized spray systems, usually pipe-type, to spray the water on top of the fill media. The pipes and cooling tower nozzles are usually spread farther apart so they will not restrict any air flow.
Forced Draft & Induced Draft Cooling Towers Process
---
Cooling tower fans are used on induced draft cooling towers to pull air up through the fill media. On forced draft cooling towers, the air is pushed/forced by blowers at the bottom of the air inlet louver.
Factory Assembled Cooling Towers (FAP) Factory Assembled Product
---
These factory-assembled cooling tower systems come somewhat disassembled and are shipped in a few sections, ready for final assembly or field erection. Although, small factory-assembled cooling towers can be shipped intact. FAP cooling towers can be induced draft, crossflow, forced draft or counterflow depending on the application its need for. 
Field-Erected-Towers (FEP) Field Erected Product
---
Field-erected cooling towers are usually constructed on the final destination site. The large FEP is usually prefabricated, marked by piece and shipped to the construction site for assembly. The cooling tower manufacturer usually handles all of the cooling tower construction process, final assembly, and labor involved. These type of towers can be counterflow or crossflow depending on the application. For heavy industrial applications or more power needed, field-erected cooling towers can be built to your exact specifications, structure, performance, plume abatement and drift.
5 Steps to Proper Cooling Tower Maintenance
Another factor is Legionella prevention, which has become an industry-wide focus because of ASHRAE Standard 188-2015. Because cooling towers are one of the more common sources for growth of bacteria, proper maintenance (including cleaning and disinfecting) is crucial.
To help plants and facilities optimize their cooling tower cleaning operations, Goodway Technologies, a manufacturer of industrial cleaning equipment, compiled a five-step list to optimize cooling tower maintenance and cleaning.
Inspect towers at least monthly. Sediment, scale and slime can lead to buildup and help Legionella grow and thrive. Regular inspections will help determine when to schedule cleaning.
Clean tower basin surfaces. If sediment is visible, the basin needs to be cleaned and cooling tower vacuums make it easier to remove contaminants without shutting down or draining your system.
Descale the fill. The tower fill provides the perfect environment for bacterial growth, especially Legionella. A descaler will dissolve the scale and mineral deposits that Legionella like to hide in, leaving the surface ready for cleaning.
Clean the fill. A cooling tower fill cleaner will remove dirt and debris and inhibit the growth of other bacteria when utilized in conjunction with appropriate biocides.
Disinfect the tower. Cooling towers can be a dangerous breeding ground for bacteria, which makes it important to reduce the nutrients available for Legionella growth.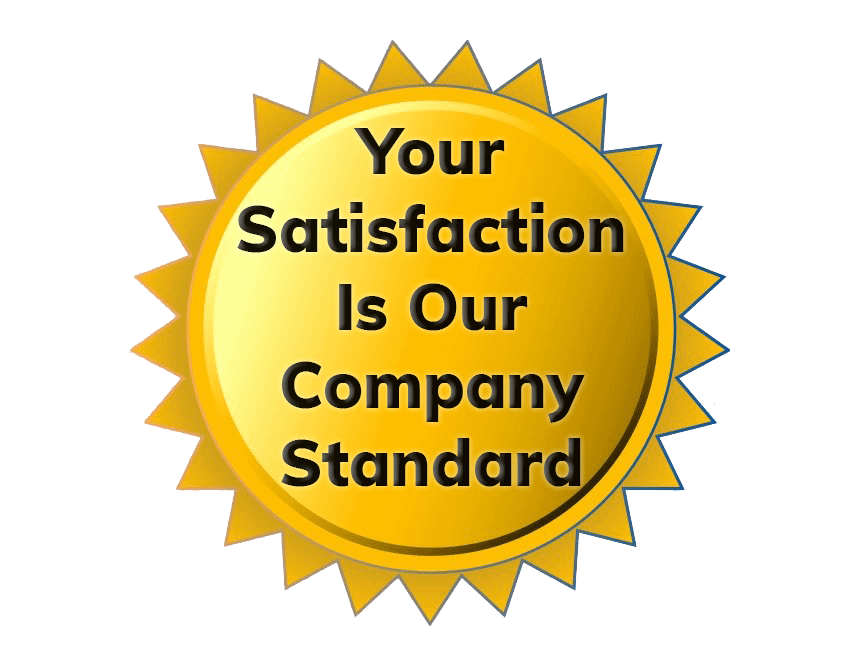 Contact Us Today
Our Technicians are ready to respond don't put your comfort on delay, Call Florida Air Care Today
CALL (727) 623-4605 TEXT (727) 916-5722
6625 35th Street N. Suite 3
Pinellas Park, Florida 33781
Office Hours
Monday–Friday: 8:00AM–5:00PM
24/7 Emergency Service Available