The award winning REME HALO® whole home in-duct air purifier is the next generation of indoor air quality (IAQ) technology and capable of purifying every cubic inch of air that your central air conditioning system reaches. Designed to eliminate sick building syndrome risks by reducing odors and air pollutants, the REME HALO® whole home in-duct air purifier is the best solution for whole house and building air purification.
Invented to recreate nature's process of purifying the air, it brings fresh outdoor air inside without ever having to open your windows. And it's effective against all three categories of indoor air pollutants: Particulates, Microbial and Gases.
You can now reduce common allergy triggers from particulates such as pollen, mold spores, dander and dust. Thoroughly tested on airborne and surface bacteria & viruses, such as MRSA, e-coli, and Norwalk. Say goodbye to odors from cooking, pets, dirty socks, diaper pails, and musty rooms.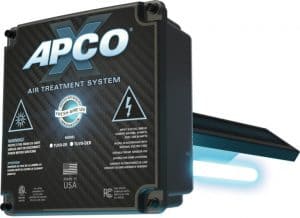 Introducing our most advanced whole-house air treatment system yet. APCO-X is the result of ten years of APCO development. It will revolutionize indoor air quality with significantly improved performance, functionality, and reliability.
• 33% more effective than previous model in laboratory tests
• V-Twin element with over 65% more effective carbon surface area
• EverCarbon™ cells with proprietary antimicrobial  nanotechnology
• 3 year UV-C lamp
• LED status and lamp fault indicator
• Translucent polycarbonate housing
• Face plate rotates for vertical or horizontal installation
APCO-X combines UV-C light and our proprietary EverCarbon™ cells to safely reduce odor-causing VOCs and biological contaminants. For the remaining third (particulates), consider adding a Fresh-Aire UV Purity Low Profile polarized HVAC filter.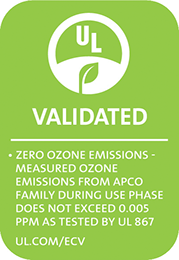 Fresh-Aire UV APCO is the first UV/PCO based air purification product line to achieve the UL  environmental claim validation (UL-2998) which identifies air purification systems that emits zero ozone. They are then listed in the UL SPOT database of sustainable products

Redesigned from the ground up, the new generation Lightstick and Lightstick Plus offer the highest UV-C output compared to all other 24V UV fixtures. Better at optimizing indoor air quality by fighting mold and bacteria growth on HVAC coils than ever before.
The new Lightstick and Lightstick Plus UV are a development collaboration between Dust Free and the leading UV lamp manufacturer in Europe using the highest quality components the industry has ever seen. From the power supply and lamp to connectors and cordage. The Lightsticks utilize low mercury lamps that are good for the environment and provide high ambient temperature operation. 100% ozone free.
Features
Works in conjunction with your air filter 24/7 to disinfect cooling coils, drain pans, and duct surfaces.
Fights mold and bacteria growth for optimal coil purification. 24V power module.
Expanded range ballast operates over a range of 20V to 32V and offers 3000V surge protection.
Direct ConnectTM custom design allows lamp to be installed directly in A-coil delta plate for optimal UV exposure.
Remote mount lamp capability.
Quick disconnect lamp connection enables easy lamp replacement.
PuriFi-compatible real-time system alerts. (Pending)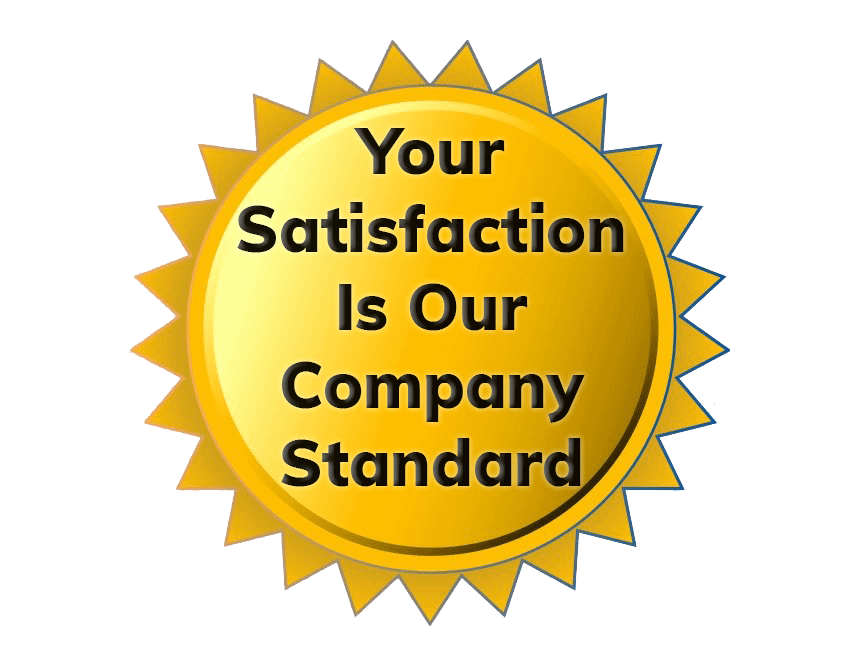 Contact Us Today
Our Technicians are ready to respond don't put your comfort on delay, Call Florida Air Care Today
CALL (727) 623-4605 TEXT (813) 539-2857
6625 35th Street N. Suite 3
Pinellas Park, Florida 33781
Office Hours
Monday–Friday: 8:00AM–5:00PM
24/7 Emergency Service Available